Welcome
to safe place
Software engineer, musician, composer, sound-designer
Primarily a software engineer. Hobbyist music-producer. Plays guitar since 15. Mostly Inspired by cool and dark jazz, soft piano. Prefers to work alone to keep everything under control




In order to use full functionality of this site you have to be a registred user, please register or sign in
Navigation
Grouped by categories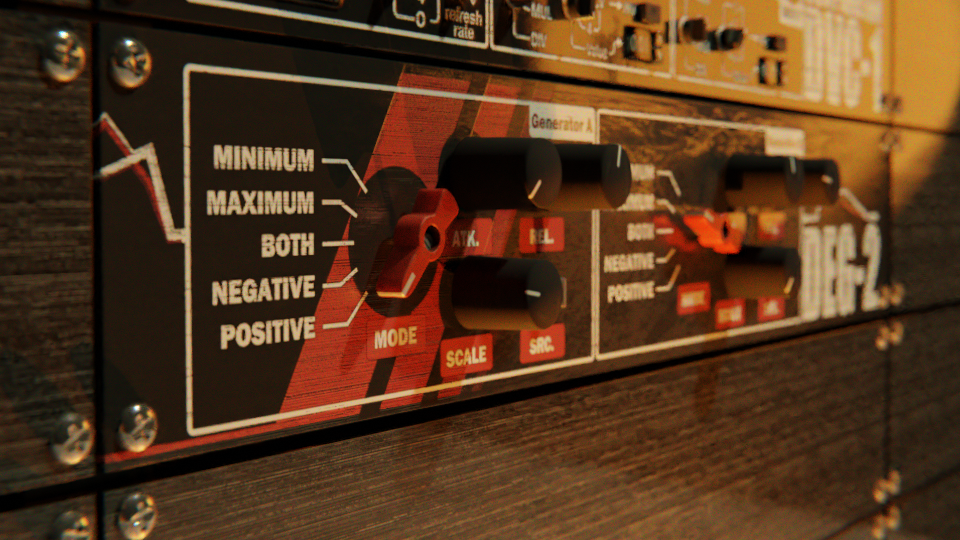 DEG-2 Dual Envelope Generator
Software [Rack Extension, 2016]
Release Date:

November 10th, 2016

Format:

Rack Extension
Reason 6.5+
Reason Essentials 1.5+

Price per license:

FREE


Propellerhead Shop [149]

DEG-2 is a device with 2 independent envelope generators. It offers 5 ways to generate envelope (15 ways for stereo input). You an easily tweak the result with in realtime.


Product details
Basics:
DEG-2 counts an average value of audio amplitude and presents it as a CV. It allows you to control parameters on live performances via measuring level, which brings some nice and warm chaos, mostly suitable for Ambient music and it's subgenres. But there are no limitations for a genuine user - craft your own auto-compressor, self-evolving guitar or rhodes piano tremolo or even noise gate - quite anything, even your own vocoder.
Features:
5 algorithms for generators:

average of negative phase only
average of positive phase only
average of both phases (inverted negative phase)
average of maximum (both phases)
average of minimum (both phases)

3 source types:

left channel only (mono)
stereo
right channel only (mono)

autorouting (passthru output)
fully automatable and remotable (mode, output CV scale, source, attack, release)
high accuracy for attack/release (up to 20/50 microseconds for attack/release)
the result is easily tweakable with DVC-1